Slalom route with time measurement
13-02-2017
"From December to April our training center is located in JAWORZYN KRYNICKIEJ. The slalom route is located along the route No. 6. Training on poles takes place DAILY from 9:00 to 15:30.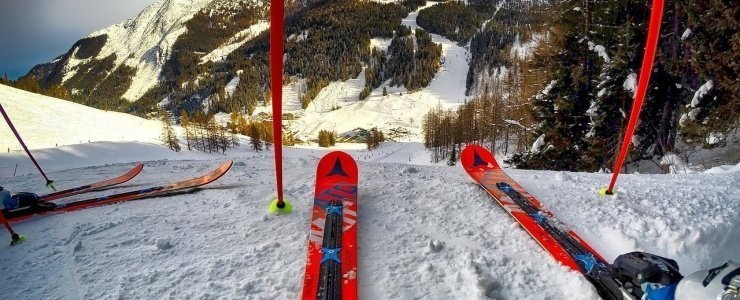 "For your choice of three workouts per day:
Morning ski training 9:00 - 11:00 giant slalom.
The Giant Slalom jumps at gates set a relatively large distance of over 10 m, is the primary competition for alpine skiing. It is trained by both speed and technical competition specialists. From her start learning sports riding future masters.
Improving skiing skills / Preparing to ride on slalom / Tasking 12.30 - 14:30
In these hours we invite all those who want to improve their technique. So to fully enjoy skiing. In the classes we do exercises thanks to which in a short time you will be able to master the fundamentals of contemporary sports on the edge - carving.
Ski training in the afternoon 13.30 - 15.30 slalom or giant slalom.
Training schedule on Jaworzyna:
Monday: 9-11 Gigant Slalom, 12:30 - 14:30 Tasking
Tuesday: 9-11 Gigant Slalom, 12:30 - 14:30 Activities
Wednesday: 9-11 Gigant Slalom, 12:30 - 14:30 Driving
Thursday: 9-11 Gigant Slalom, 13: 30-15: 30 Special Slalom
Friday: 9-11 Gigant Slalom, 13:30 - 15:30 Gigant Slalom
Saturday: 9-11 Master Race route V fis black Gigant Slalom, 13:30 - 15:30 Gigant Slalom
Sunday: 9-11 Gigant Slalom, 13:30 - 15:30 Gigant Slalom
Slalom giant or slalom. Slalom is the most technical competition. Goals are set close to each other. It requires reflexes from us and a technique combined with excellent motor coordination.
At each passing run, you will be able to measure your time and compare your progress. After each pass from the coach you will receive an adjustment - say what you are doing well and what can be improved. Trainings are organized using reputable companies. SPM tilt mounts. Soft Softpole Poles - Learn the basics of the special slalom. Microgate time measurement, etc.
Price list:
Workout on 2h poles with time measurement and coach corrections after each ride - 100 PLN
Preparation for sport riding on poles / Improving skiing technique / Task 2h - 200 PLN.
Slalom ride with time without trainer coach 1 ride - 5 PLN
Because of the limited number of participants in the training session of maximum 12 people, please make a reservation by phone or email
Tel. +84 694 872 820
Professional manual ski service - ski preparation for the event.
Our professional manual service is at the finish line of the "Slalom Trails". For the duration of your skiing service, you will receive free head-to-head skis for the selection of the largest models of this year's giant and slalom ski (mobile and shop). We service ski on equipment and lubricants of the best companies in the world Holmenkol, Snolii, Toko, Swix.
Ski Head Test:
We run the first Ski Test Center in Poland Head 2016/17 this year, we chose the following ski mods for testing: Skydiving RD Racing Department (mobile):
Giant slalom:
World Cup Rebels iGS RD 188/186/181 cm
World Cup Rebels iGS RD Team 173 cm
World Cup Rebels iSpeed ​​Pro 180 cm
Special slalom:
World Cup Rebels iSL RD 168 cm
World Cup Rebels iSL RD 165 cm
World Cup Rebels iSL 165 cm
Ski for Experts:
Supersharpe i.Speed ​​SW TFB
Supersharpe i.Titan SW TFB
Supersharpe i.Magnum SW TFB
Supersharpe i.Rally SW TFB
All of the above Head models and ski accessories are also available for sale at our Testing Center.